The Growth of Arista Networks via Cloud Computing
Cloud Computing has taken data management by a storm and is now the most frequently used method of data storage. In fact, the International Data Corporation projects that by 2020
"overall public cloud spending will experience a 21.5% compound annual growth rate (CAGR) – nearly seven times the rate of overall IT spending growth."
Cloud computing has become so widespread it has risen to the norm- you're probably using it as you read this post.
Benefits of Cloud Computing
What has driven companies to switch from on premise IT infrastructure to software driven cloud networking? Well the simple truth is that there are lots of benefits associated with using cloud computing.
Price Since all the data is stored on "The Cloud", it renders the need for hardware and other in house applications obsolete.
Performance Cloud storage allows for the ability to access data from anywhere, thus minimizing the travel time needed to complete tasks. Not to mention the access a company has to real time data.
Elasticity Bandwidth, storage, and speed do not seem to have limitations and more or less scale with the amount of data being stored and used.
Speed Gone are the days your email and other applications come to inexplicable hold ups. Cloud networking assures that tasks can be completed in a timely and efficient manner, as the potential for on-premise applications to break down will be eliminated.
Security Back in September the Innovative team touched on cloud computing and emphasized its approach to disaster recovery as one of the most compelling reasons to consider adopting software driven cloud networking. As long as best practices such as monitoring and testing are implemented, the more likely it is to maintain an efficient disaster recovery protocol.
Needless to say the benefits of Cloud Computing make it a heavily contested space among IT companies.
Who is Arista Networks?
Arista Networks (NYSE:ANET) is a California technology company that specializes in the manufacturing of multilayer network switches for the purpose of software driven cloud networking. The company is notable for building scalable, high-performance and ultra-low latency cloud networks with low power consumption. Some of Arista Networks most significant products are:
Extensible Operating System (EOS) Arista EOS, is considered to be the "core" of cloud networking solutions and allows for clients to deploy it on third party hardware and cloud platforms.
Data Center Networking Platforms In 10 years, Arista Networks has grown into one of the largest suppliers of datacenter networking switches. The company's growth is due to Arista's Operating System (EOS) and extensive set of APIs and its focus on creating datacenter networking solutions.
How Does Arista Networks Compare to Other Cloud Computing Providers?
Arista Networks is not the only network computing company on the market of course- there is HPE, Brocade and Juniper Networks. Yet, Cisco taking on Arista Networks in such a public sphere isolates Arista from the rest of the flock and indicates that Arista Networks is their number one competitor. Part of the reason Arista is such a force to be reckoned with is because they put an emphasis mainly on software, giving their clients leeway to utilize more economical merchant silicon and parts from Asian suppliers. Arista has also been tapped as a "Gartner Leader" in the Data Center Networking sphere based on its: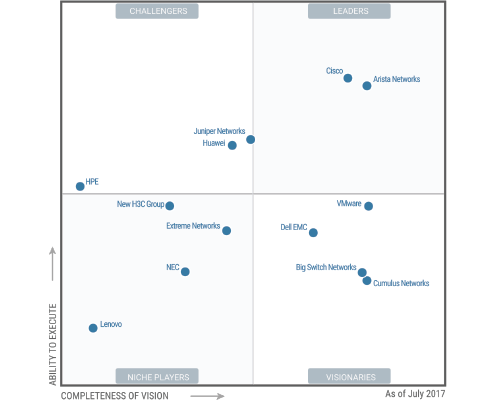 High Growth,
Technology Solutions,
And Flexible Software.
The Arista Networks team is comprised of accomplished managers and engineers from other networking companies, who have come together to create an effective and flexible solution to cloud networking. As we progress further into 2018, Arista is advancing into the routing market with the intent to drive down costs. Arista's disruptive current practices of the implementation of merchant silicon in the cloud computing sphere and the router market to come makes it a company worth keeping an eye on.