Comprehensive Performance Monitoring Solution
SolarWinds is a comprehensive monitoring solution that works on Microsoft Azure IaaS and PaaS, as well as Office 365, all managed through a single pane of glass. Monitor your flow of traffic alerting, expanded config baseline capabilities, infoblox support, and more with SolarWinds. This solution allows you to monitor and audit unauthorized access and changes to Active Directory®, Windows® file servers, Exchange™, OneDrive™, and SharePoint™. Automate the user management and access to services and files. Generate audit-ready compliance reports.
Solarwinds Monitoring Modules:
Network Management Products
Systems Management Products
IT Security Products
Database Management Products
IT Help Desk Products
Network Performance Monitor:
Server And Application Monitor:
Database Performance Analyzer:
Virtualization Manager: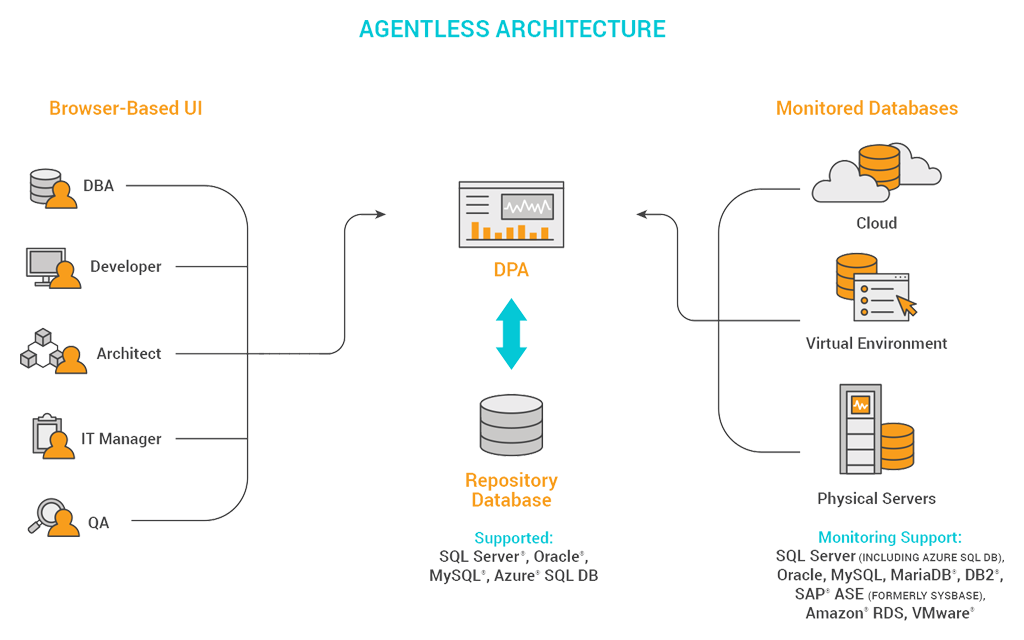 Gartner Magic Quadrant for Network Performance Monitoring and Diagnostics
SolarWinds was recognized by Gartner as a "highest on the ability to execute axis" in its "2018 Gartner Magic Quadrant for Network Performance Monitoring and Diagnostics" based on a number of factors, including product or service overall viability, sales execution and pricing, market responsiveness and record, marketing execution, customer experience, and operations. SolarWinds is a leading provider of affordable IT management software to execute axis.
(Read the Report)
12 Network Management Products
Simplify and centralize your log message management on all servers and network devices.

This product reduces network outages and increase performance with network monitoring software.

Save time and optimize IT resources with automated network configuration management and compliance.

Monitor all the ups and down for servers, applications, and networks.

Log management software built to aggregate, search and chart log data within the Orion® Platform

Reduce costly errors and save time with IP address management.
11 Systems Management Products
Resolve application problems quicker with server monitoring software.

Virtual machine monitor designed to optimize performance and fix issues quickly.

Storage management software built with multi-vendor performance monitoring.

Server configuration and change monitoring tool that is easy to use.
4 IT Security Products
Real-time security threat report and monitoring.

Easy to log security, compliance, and troubleshooting work.

Manage and audit access rights across your IT infrastructure.

Never miss a software patch and avoid software vulnerabilities.

Increase security and control over file transfers within your company.
2 Database Management Products
Server monitoring software built to find and resolve application problems

Easy to start

Infrastructure monitoring for Azure and AWS

Storage Resource Monitor

Storage management software built with multi-vendor performance monitoring

Multi-vendor storage monitoring

Performance and capacity planning

Alerting and hotspot detection
5 IT Help Desk Products
Affordable Help Desk Ticketing and Asset Management Software

Remote control and systems management tools in one easy-to-use package

Remote control software for  your customer support team
Network Performance Monitor:
Multi-vendor network monitoring for fault, performance, and availability.

Automated capacity forecasting, alerting, and reporting.
Server And Application Monitor:
Deep performance visibility of commercial and custom applications.

Monitor across private, public and hybrid cloud environments.
Database Performance Analyzer:
Find, analyze, and optimize your database performance story.

Multi-vendor support across physical, virtual, or cloud deployments
Virtualization Manager:
Identify and remediate VMware vSphere and Microsoft Hyper-V problems.

VM capacity planning and sprawl control